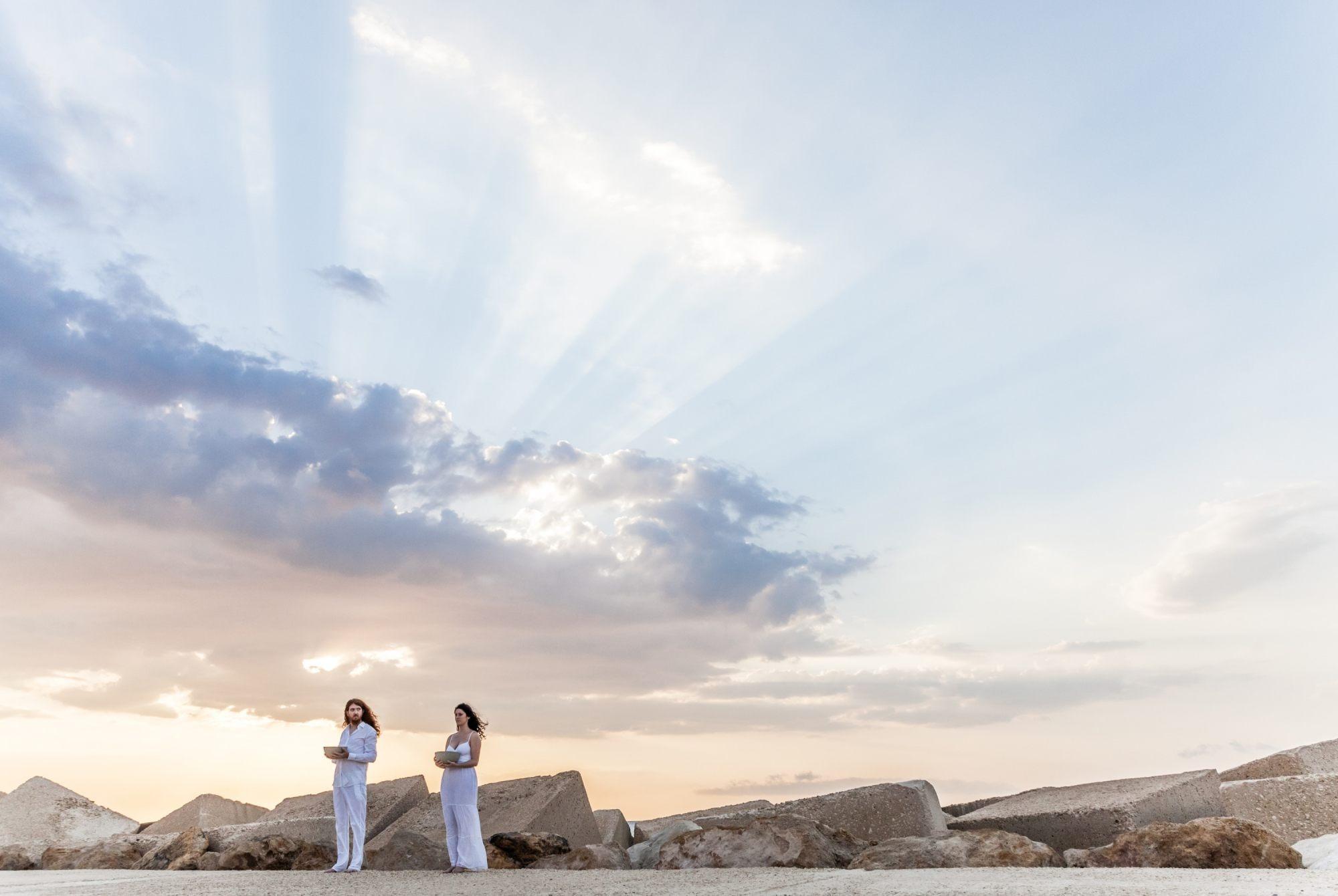 Amnios / 2016 / Stampa fine art su carta Hahnemuhle applicata su dibond / 70x45 cm

AMNIOS
AMNIOS, per tornare alle origini embrionali della vita, ma anche per riflettere sulle scelte dell'uomo, avanzando riflessioni che toccano il proprio io e al tempo stesso la collettività. Tra spiritualità e scoperta dei sensi gli artisti Sasha Vinci e Tamara Marino al molo di ponente della città di Scoglitti, hanno dato vita alla performance AMNIOS.
A piedi nudi, con in mano ciascuno una ciotola di argilla cruda, i due artisti hanno percorso il selciato del molo di ponente del porto, quel molo realizzato dall'uomo, divenuto fonte di economia per il settore del diportismo, della nautica e della pesca ma che ha contemporaneamente modificato, in modo violento, la morfologia della vicina fascia costiera, avviando una pesante azione di erosione che sta lentamente intaccando l'area archeologica di Camarina. L'uomo crea artificialmente il molo e per l'incontrollato gioco delle correnti, danneggia la sua storia. Si svela dunque una pubblica denuncia nella performance AMNIOS, in cui la simbologia dell'acqua diventa la chiave di lettura di tutto. Fonte di vita e di energia, l'acqua rappresenta la nostra parte emotiva, irrazionale e creativa. Un simbolo che si lega al tempo, al divenire, metafora di forza e vitalità, quell'elemento primordiale in cui si fondono morte e rinascita alla presenza di energie inconsce. Partendo da questi concetti si è sviluppata la ricerca dei due artisti, con la precisa volontà di creare un'opera per far riflettere sulle problematiche che affliggono il presente.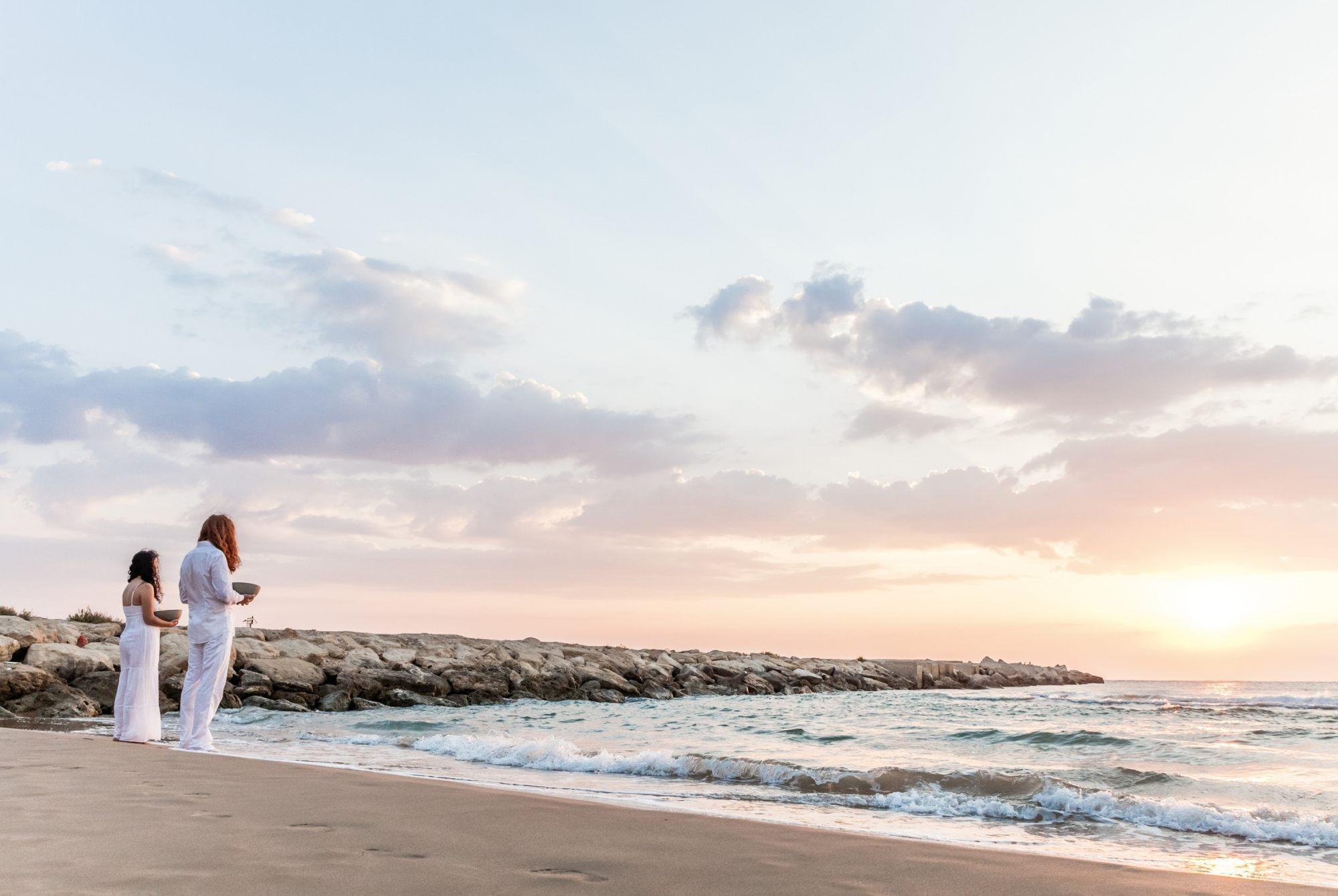 Amnios / 2016 / Stampa fine art su carta Hahnemuhle applicata su dibond / 70x45 cm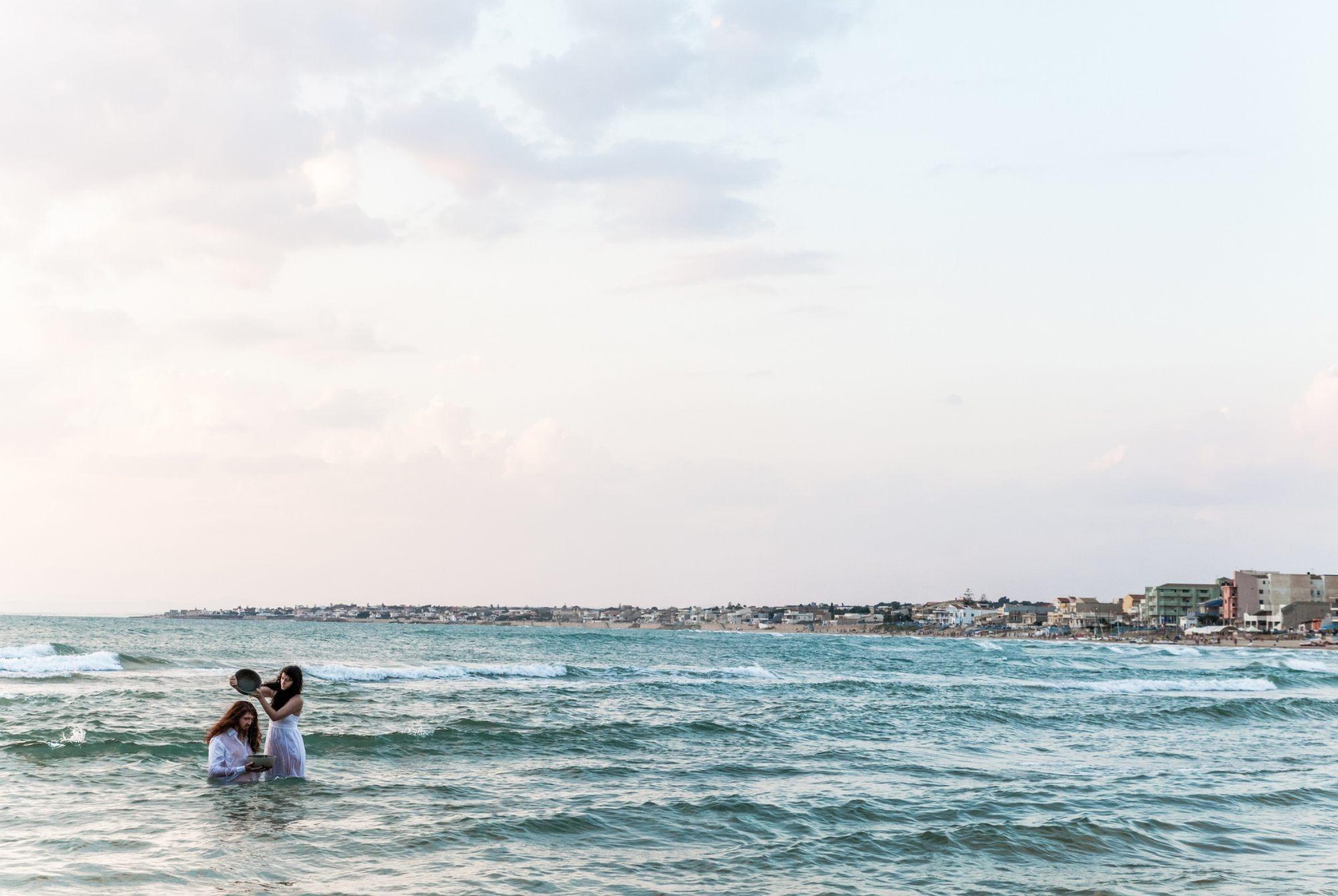 Amnios / 2016 / Stampa fine art su carta Hahnemuhle applicata su dibond / 70x45 cm

Durante lo svolgersi della performance, una pausa, un momento di raccoglimento, per ascoltare un sound design ispirato all'ultimo capitolo dell'opera "Per gli analfabeti" di Antonin Artaud, realizzato con voci registrate e in sottofondo il suono di un'orchestra che si accorda sulla nota "La" che è la nota dell'acqua e dell'abisso. Poi la discesa nella vicina spiaggia per entrare in contatto con il mare.
Le due ciotole d'argilla, finora portate quasi in processione, sono entrate a contatto con l'acqua salata e hanno iniziato a sciogliersi, tornando alla terra, al "liquido amniotico".
Una performance ispirata alla spiritualità ma anche alla dualità nel continuo confronto tra terra e cielo, maschile e femminile, interiorità ed esteriorità, girando attorno all'elemento acqua, simbolo perenne di tutte le cosmologie dei popoli.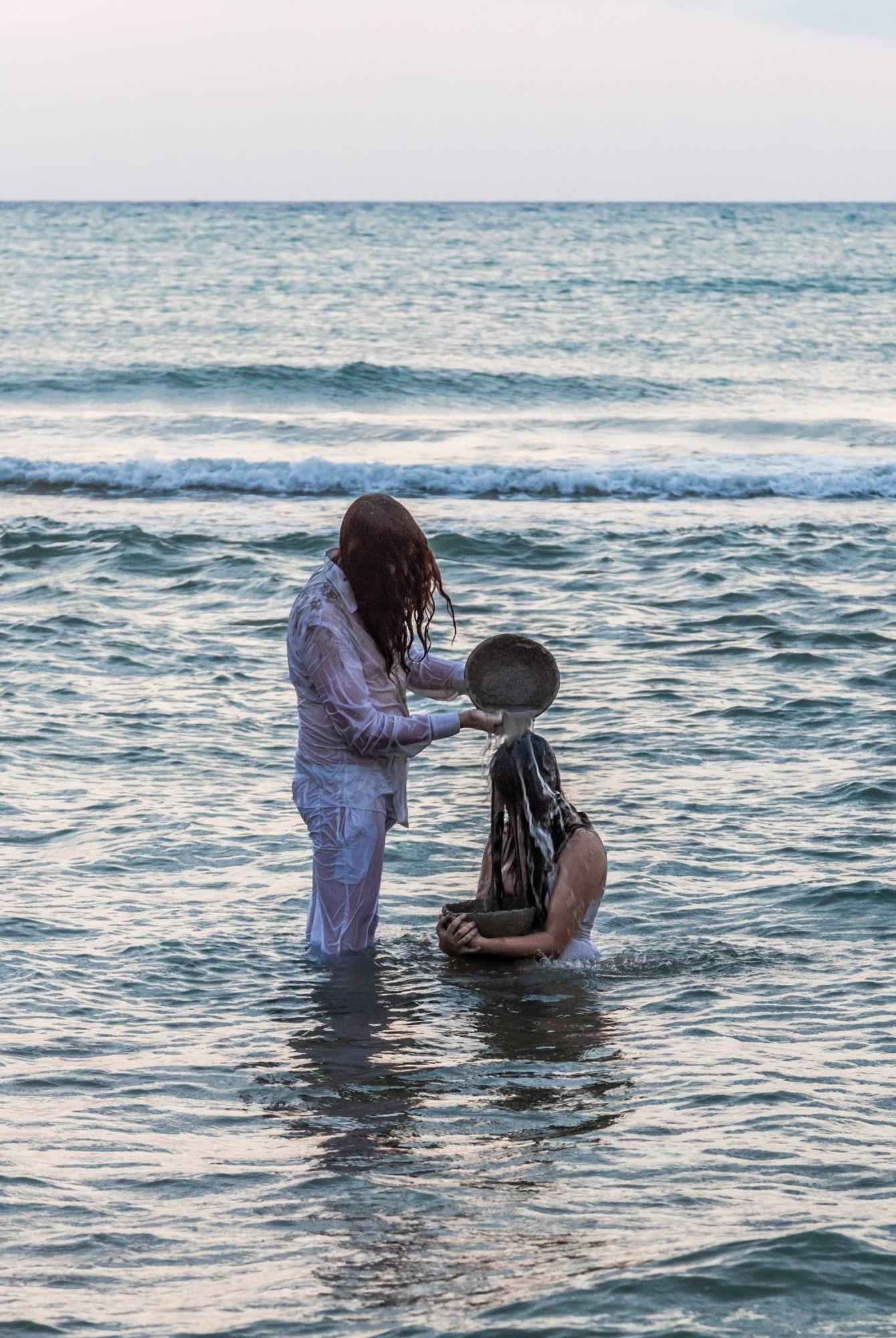 Amnios / 2016 / Stampa fine art su carta Hahnemuhle applicata su dibond / 70x45 cm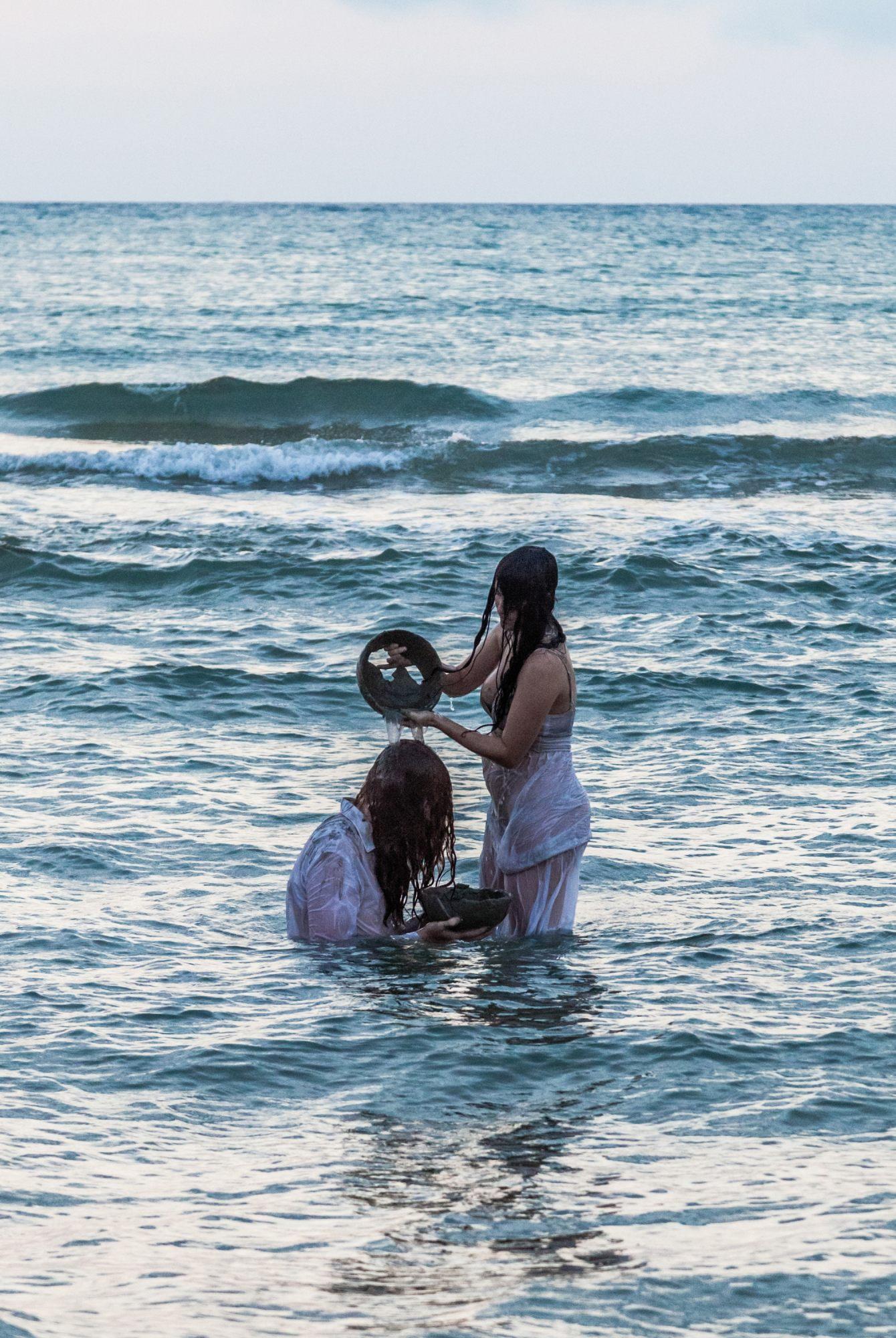 Amnios / 2016 / Stampa fine art su carta Hahnemuhle applicata su dibond / 70x45 cm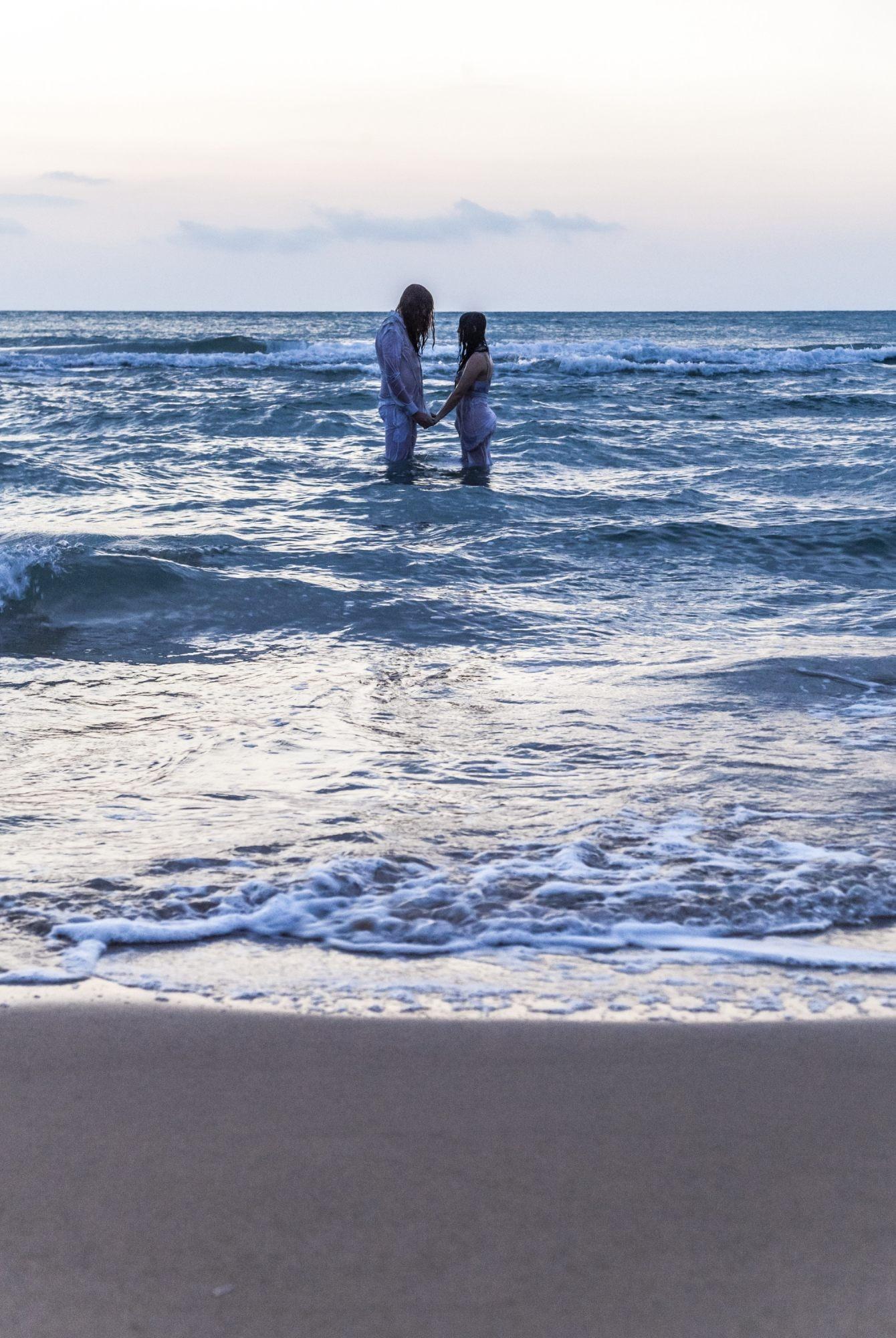 Amnios / 2016 / Stampa fine art su carta Hahnemuhle applicata su dibond / 70x45 cm

AMNIOS
AMNIOS, a work of art to return to the embryonic origins of life, but also to ponder on man's choices, proposing reflections that touch the individual and the community at the same time. Between spirituality and the discovery of the senses, artists Sasha Vinci and Tamara Marino staged the AMNIOS performance at the western pier of the city of Scoglitti. Barefoot, each holding a bowl of raw clay, the two artists walked along the pavement of the port's western pier, the man-made pier that has become a source of income for the yachting, boating and fishing industries but that, at the same time, has brutally altered the morphology of the nearby coastal strip, initiating a severe erosion action that is slowly undermining the archaeological area of Camarina.
Man artificially creates the pier and, due to the uncontrolled play of the currents, damages its story. A public grievance is therefore revealed in the AMNIOS performance, in which the symbolism of water becomes the key to understanding everything. Source of life and energy, water represents our emotional, irrational and creative side. A symbol linked to time, to becoming, a metaphor for strength and vitality, a primordial element in which death and rebirth merge in the presence of unconscious energies. The research carried out by the two artists is based on these concepts, with the precise intention of creating a work to make people reflect on the problems that afflict the present.
As the performance unfolds, there is a pause, a moment of meditation, to listen to a sound design inspired by the last chapter of the work "For the illiterates" by Antonin Artaud, created with recorded voices and, in the background, the sound of an orchestra tuned to the note "La", which is the note of water and the abyss.
Then the downhill walk to the nearby beach to get in touch with the sea.
The two clay bowls, until then carried almost as if in a procession, come in contact with the salt water and begin to melt, returning to the earth, to the "amniotic fluid".
A performance inspired by spirituality but also by the duality in the continuous interaction between earth and sky, masculine and feminine, interiority and exteriority, revolving around the element of water, an eternal symbol of all the cosmologies of peoples.